Once your panic subsides and you begin working on each of your interests, one after another, you'll let go of the dread that life will pass you by. You'll understand that today, tomorrow, and next year you're going to use every bit of talent, curiosity, and intelligence that's inside you. –Barbara Sher
One of the prompts/templates in the "Quarter Planning" Module is to create a full moon vision board (or card, page, etc.)
The full moon phase is a cyclical invitation to notice your own personal "fullness" — your wholeheartedness; a time for self-compassion and declarations, self-honesty and clarity.
This week has been transitional for me emotionally + clarifying with regard to my priorities.
I returned to my daybook several times throughout the days of this week to jot random feelings and thoughts.
This past month I have been distracted, and I derailed a bit in my progress; I stopped creating my moon cycle art — and began feeling as though I was simply spinning around on the proverbial hamster wheel.
SO, instead of sliding down the slippery slope of "why-oh-why" and bumping my butt through July into August (when my schedule will be "delightfully interrupted" again) — I decided to create a Full Moon vision page using a large piece of freezer paper:

Starting points: Make a list of wishes. Pick one to focus on. Collage images or keywords. List starting points for The Work (ex. working from this full moon to the next full moon and then reassess/brainstorm some more).
Ask yourself the question, "What do I want?" every day as an appointment with your journal-planner.
Write, collage or doodle what comes to mind. EVEN IF it doesn't make sense at the time. ☛ You may need to invest days/weeks to listening. BUT the answer is within and awaiting your attention.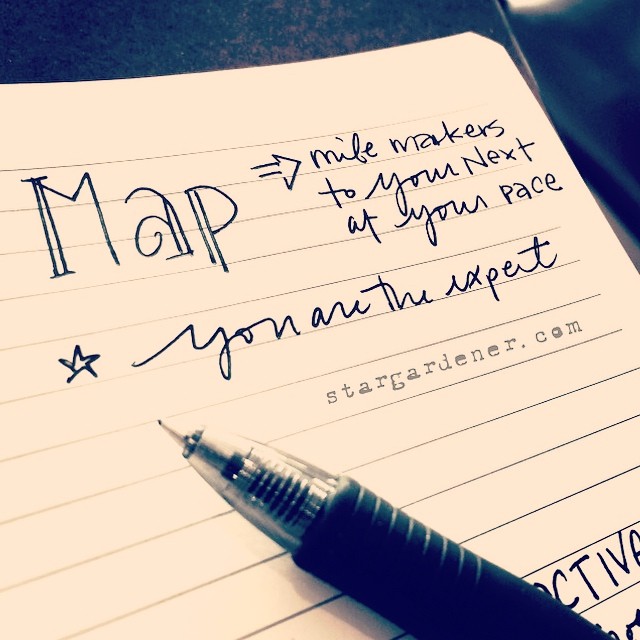 When you have extra time and/or when you are procrastinating (avoidance; dread; fear) — what is your default?
If it is distraction (snacking, TV/Netflix, scrolling on Facebook) notice any clues about what the distraction is "satisfying" for you. Just some ideas here about connecting the dots:
Snacking and mindless munching is always a tell: you are likely feeling something that needs "out" [expression; action on your part instead of stuffing and avoiding]. ☛ Name it.
Viewing home and garden shows (wishes for home); romantic comedies (wishes about relationships); stories in which women are portrayed as artists, business managers, in charge of their lives (wishes about yourself). WHAT are the stories? ☛ List the story lines.
Shopping. If you are shopping to add to collections: what collections are you adding to? ☛ Connect the dots. What actions need to be the follow-through to owning more of [fill-in-the-blank]?
This week's starting points and "notes-to-self" for me:
✔ Remember to name what I want — I know what I want and need to make wish-lists; I need to allow time and space for my mind to wander and engage in wonder.
✔ I need a focal point, a target for my aim. [Creating a vision board is a means of naming priorities; a meditative process of cutting, gluing and creating a visual map.]

✔ I need to give shape and definition to what I want my days to look like. Details such as:
What am I doing, feeling, focused on, wearing? (how you look=how you feel)
Is this a seasonal goal (like my wild gardens and birthday road trips); if so, what months are mile markers for starting points and completion?
What materials and tools do I envision on my work table?
What self-directed study is needed for accomplishing this?
What am I doing more/doing less of when I envision living these wishes?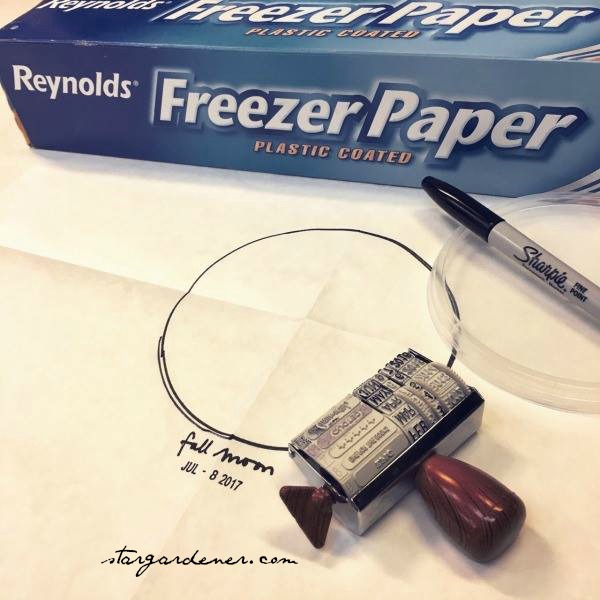 My decision to create a Full Moon collage …
I realized it is time to brainstorm about how I can get from "here" to "there" — and then to divide and conquer the steps to accomplish what I want/need.
Actually, doing this two weeks ago with regard to my wild gardens "jogged" my memory, "Oh, yeah! I know how to do this!"
I made a master list + took photos of main points of clearing and tracked it out to a 12-week project plan. (If it takes longer, that is 100% fine and dandy! But 12-weeks was a great starting goal!)
I realized I had started wandering off to a dead drop last weekend: I had not mapped out July's deadlines and activities.
When I am in the midst of The Swirl (emotions, burn-out, etc.) quarter plans are like time traveling for me!
My focus moves from being in the midst of The Swirl and into the future. My focus is asking myself: What do I want to do more of? What am I truly upset about? What is the core issue of my swirly emotions? What am I obsessing about? What am I jealous about (envy is an instant clue to heart desires and start lines!)
CORE ISSUE: July was happening in default and "catch-up mode" — not ease and intention. I was focused on the immediate and thus loosing site of The Big Picture. That happened due to the (delightful) disruption in my schedule while my three adult children were visiting in early June. Plus I have been focused on creating my daily ICAD cards, so my morning routine has been different during the past month.
The full moon phase is a cyclical invitation to notice your own personal "fullness" — your wholeheartedness; a time for self-compassion and declarations, self-honesty and clarity.
So … if you are interested in creating your own vision board, page, card, etc. …
✔ Compile it in the "language" of you — your personal creative-speak: use the module template as a gluebook page or use a sheet of paper (or tape sheets of paper together) — add images from magazines or catalogs; add collage, paint or handwritten notes; doodles; sketches; etc. Other options for your vision "board" :: a playing card, an index card, a cereal box, file folder, poster board — whatever size you decide is "big enough."
✔ For some ideas (and a means of time traveling into the future!) consider creating a 12-week plan to accomplish your Full Moon wishes: