The most confused you will get is when you try to convince your heart and spirit of something your mind knows is a lie. -Shannon L. Adler
Today is the New Moon and I am on a bit of magic carpet ride …
Our actions will always follow what we believe, Braveheart.
I believe each day is a canvas awaiting the collage elements we decide have meaning — splashed with the authentic paint of our mind, will and emotions.
I believe in vulnerably investing time and energy in-community.
I create and I contribute creatively each day; my work includes designing visual journal-planning art and pages, and fostering community. I host groups to offer a forum for creative and empowering exchanges for like-minded women.
My work is to offer ideas and tools.
I invest hours each day reading and creatively documenting curated ideas and concepts to incorporate in Right Brain Planner® journal-planning pages.
I do so with the intention of providing prompts and space for both the practical as well as the blurts and jots of: dreams, processing the hard things, exploring beliefs and coping with daily realities and compiling a record of personal stories.
Right Brain Planner® guides and pages are not intended to be mere how-to's.
Each month I begin with a concept page with ideas and doodles. I add to that page and collect other notes to document the daily processing of a particular theme. These ideas and tools are intended as seeds — and planted according to each individual's practice.
I believe in the art and content I create anew each month.

I believe the secret of living free is to live curious; to ask questions and sparkly dare ourselves to, Why? and Why not?
I believe we need to resist rules [shoulds, expectations and always-been-that-way's]. This includes resisting the limits of dated calendars and the lines and boxes of convention planning systems.


I believe in cycling like the moon and the seasons of nature.

---
So-o … Why am I writing about all of this?
To see life. To document life. To say we are beautiful and we are okay and we are doing the best we can and this is enough because I see it and I say so. If an artist doesn't say it, and make us stop and notice it, does anyone ever see it? Or does life just drone on, machine-like, repetitive and empty? -Mandy Steward, The Guilt Demands
Because the third time is the charm. [I have listened and discussed, read and reread my friend Mandy's words three times this past month; yesterday I crossed a new threshold in my own beliefs regarding my art, what I create and what I offer.]
Declaring oneself as an artist is usually viewed…as an act of rebellion … -Julia Cameron
As I type this sentence it is 7:16 a.m. in my part of the world; the official time the moon is at 0% visibility. As I continue to type the moon is beginning a new phase.
I am beginning a new phase …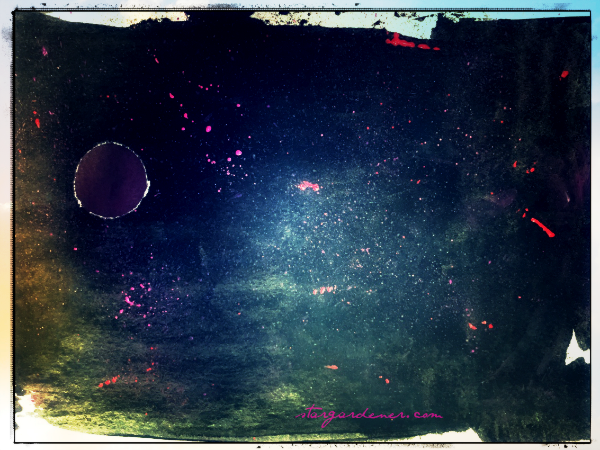 Module 5 is ready: [click for details]
If you are interested in creating a basic journal-planner for May [template pages to fold in half + add color, collage and miscellany elements to] I have two options for you … 
---
You were once wild here. Don't let them tame you. -Isadora Duncan

➡️ Option 1: This page set is available to order and receive *in print* — via hand-addressed postal mail and miscellaneous enclosures.
This option expired midnight Thursday, April 27, 2017.

All orders will be mailed the day payment/postal address is received or by Friday, April 28.
NOTE: If you are an annual subscriber — this page set is different than the subscriber guide for May.
➡️ Option 2: Purchase as a digital download for a special price: $4.26 [the date of the April New Moon].
This page set includes:
original cover art ready for paint, doodles and collage
instructional content for getting started with your own creative planning practice
quotations to cut and collage
prompt + content pertaining to allowing yourself to name what you know about living more of what you want [as you explore and re-wild]
moon phase art + a prompt for tracking your own phases
week of the year indicators + number art
week at a glance page [embellish; add sketches, doodles, or a daily journal, or task list; print weekly copy or use the one page for the entire month]
monthly calendar [use it as a calendar journal]