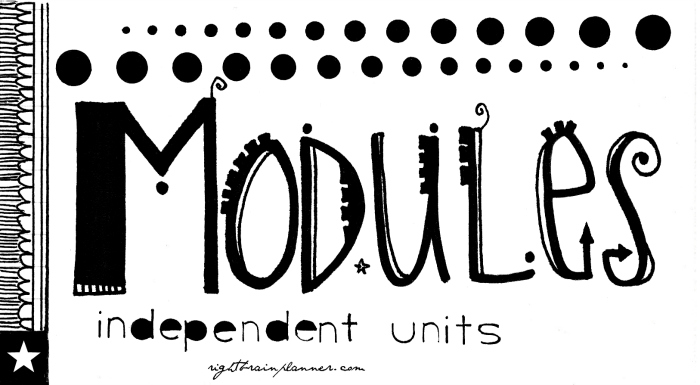 ➡️ "Modules" [themed guides and à la carte elements for customizing your journal-planning process]
Future modules will be sets of pages with elements for customizing a journal-planner using the Right Brain Planner® 2017 Planning Kit and/or your own choice(s) for a journal-planner. Examples: calendar art; week-at-a-glance pages; mind map templates; journal-planning art; prompts and themed guides.
New offerings will be announced on the day of the new moon each calendar month.
---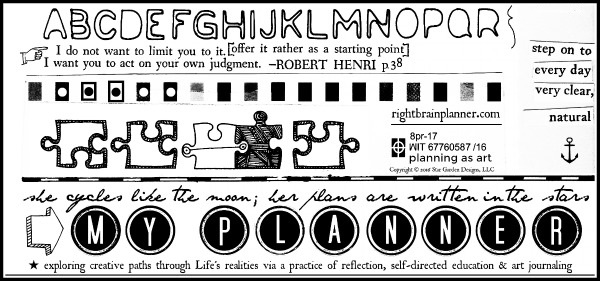 Showing my work and working out loud via this blog is an aspect of doing the work of my creative dreams. That feels risky at times — but also very much worth the risk.
In my own journal-planning experiments I learned that without a flexible system I was in a constant, reactionary state; I was overwhelmed + my productivity was low.

I learned that daily appointments of focused-work woven into cycles of routines maximized both my energy and productivity.
RightBrainPlanner.com and the journal-planning pages have continued to develop alongside my own creative journal-planning practice evolution; focused on incorporating flexibility and a gentle, personal accountability as I adapt and recalibrate in order to live free within the realities of multiple sclerosis.
For updates, subscribe to my periodic messages: [subscribe]
Thank you kindly for your interest and support!
Art has a will of its own. It has nothing to do with the taste of the moment or what's expected of you. -Helen Frankenthaler
Right Brain Planner® 2017 Planning Kit: a planner + guide book in one kit! Ready and waiting for you to allow your art to have a will of its own, Braveheart!