➡️ [August Guide]

Dated Chronicling & Mark-Making + Establishing a Morning Ritual
This 20-page journal-planning guide represents a significant design change and is the first chapter of a new starting point for Right Brain Planner® resources.
---
Additional materials to assist you with exploring a creative journal-planning practice + implementing simple journal-planning techniques:
---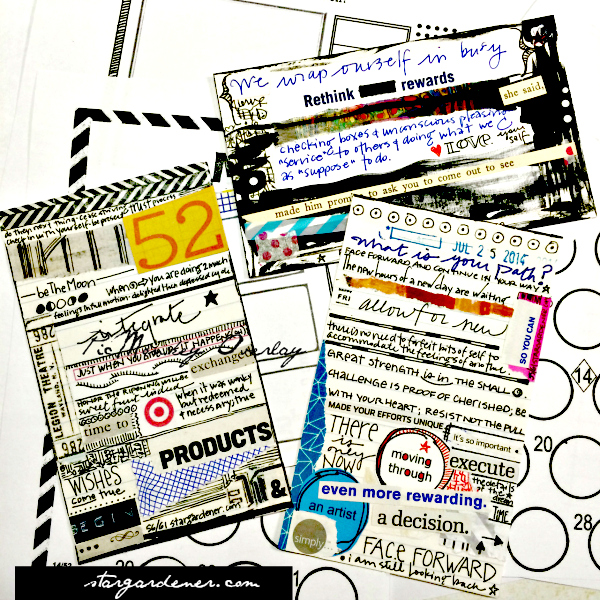 ➡️  Quick Start to Creative Planning: [an index card, a pen and a daily check-in] — Ideas for using index cards for weekly planning.
---
➡️ [Module 7] Creative Aids for Scanners
Barbara Sher defines a Scanner as a person with an extraordinary wide range of interests and curiosity in unrelated subjects + low tolerance for boredom: "They light up when they see new things, and they're dying to do something with them."
This 11-page Module is a compilation of tips and notes regarding ways to improve your overall ability to process your creative overflow.
---
➡️ [Module 6] — "Mish-Mash"
All change begins with a decision. Often these decisions are made after a brutal session of self-loathing or through brokenness and weeping because it is apparent it is time to do something different.
Creative journal-planning can become an alternative path through … Module 6, officially entitled, "Life Chronicles: The Mish-Mash of Life, Love & Daily Living for Scanners" includes: 21-pages of instructional content, prompts, art elements and quotations to assist you with releasing the familiar and embracing the new.
---
➡️ [Module 5] — Living Color

Module 5 includes 7-pages of instructional content, prompts, art elements and quotations to assist you with noticing and creating with color.

Modules [themed guides and à la carte art elements for customizing your journal-planning process]
---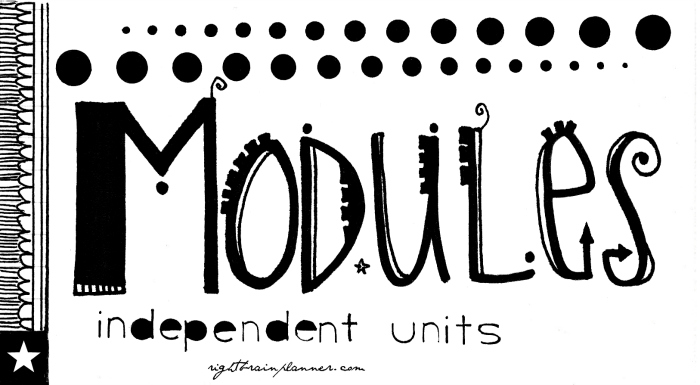 P.S. I have been working on exciting details pertaining to the future series of Right Brain Planner® Kits & Modules! 🙂
Moon prints, quarter-planners, color-wheel journal-planner pages, options for à la carte items + art mail are in the mix!
---
RightBrainPlanner.com and the journal-planning pages have continued to develop alongside my own creative journal-planning practice evolution; focused on incorporating flexibility and a gentle, personal accountability as I adapt and recalibrate in order to live free within the realities of multiple sclerosis.
Editorial Disclaimer — Monthly compilations, guides and modules are a reflection of an approximate 27-day Intensive (one lunar cycle): topic selection, research, notations, life experiments + art-making. My writing process takes place during an approximate 3-day period, concluding around the day of the new moon. Content is gathered, sorted & organized, followed by layout and design. My goal is to visually convey a theme + inspire you to create visual art at your own pace and for your own discoveries and utility (not a perfectly edited document.)