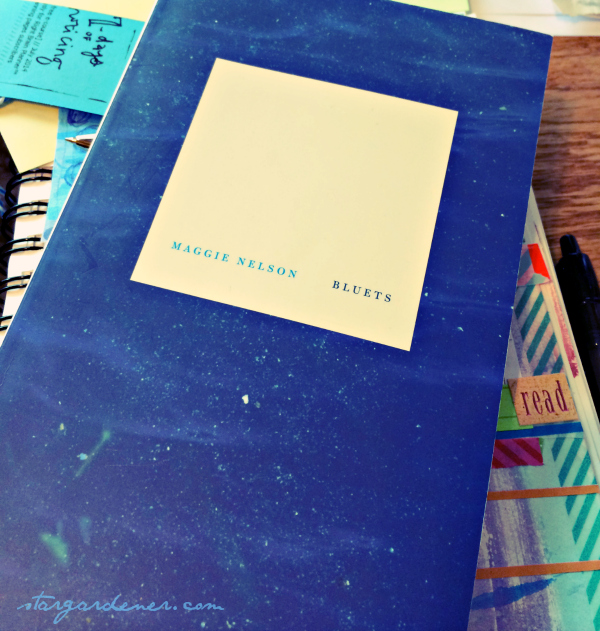 32. When I say "hope," I don't mean hope for anything in particular. I guess I just mean thinking that it's worth it to keep one's eyes open. -Maggie Nelson, Bluets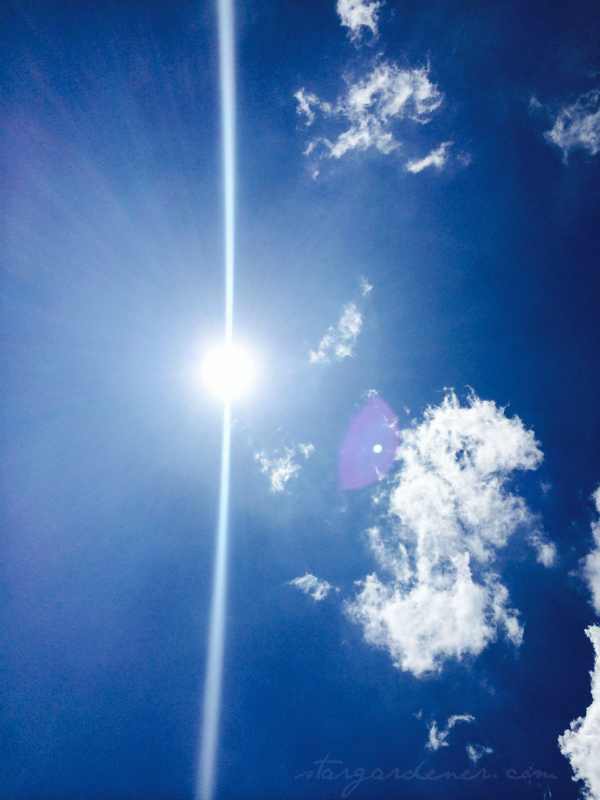 156. Why is the sky blue? — A fair enough question, and one I have learned the answer to several times. Yet every time I try to explain it to someone or remember it to myself, it eludes me. Now I like to remember the question alone, as it reminds me that my mind is essentially a sieve, that I am mortal. -Maggie Nelson, Bluets
♥

Color is a language for me. Blues denotes ease; feelings of release; Divine moments; possibility; depression + depression as a stage of healing/restoration; limitlessness; expression; dormancy [winter]; devotion; personal truth (red and purple are also colors representing personal truth/passion).

Blue cues me to listen to one of my all-time favorite albums, and title tracks:
53. "We mainly suppose the experiential quality to be an intrinsic quality of the physical object" —this is the so-called systematic illusion of color. Perhaps it is also that of love. But I am not willing to go there—not just yet. I believed in you. -Maggie Nelson, Bluets

125. Of course, you could just take off the blindfold and say, I think this game is stupid and I'm not playing it anymore. And it must also be admitted that hitting the wall or wandering off in the wrong direction or tearing off the blindfold is as much a part of the game as is pinning the tail on the donkey. -Maggie Nelson, Bluets
190. What's past is past. One could leave it as it is, too. -Maggie Nelson, Bluets

January is my birthday month; it is also commonly my month of blue, country drives and road trips [and flipping through the pages of Bluets].
A month of personal declarations and proverbial lines in the sand. Lines that often require the 365ish days of the next trip around the sun to live-fully.

♥



171. When one begins to gather "fragments of blue dense," one might think one is paying tribute to the blue wholes from which they came. But a bouquet is no homage to the bush. … -Maggie Nelson, Bluets

157. The part I do remember: that the blue of the sky depends on the darkness of empty space behind it. As one optics journal puts it, "The color of any planetary atmosphere viewed against the black of space and illuminated by a sunlike star will also be blue." In which case blue is something of an ecstatic accident produced by void and fire. -Maggie Nelson, Bluets
Blue as a feeling, as options … a life palette.
40. When I talk about color and hope, or color and despair, I am not talking about the red of a stoplight, a periwinkle line on the white felt oval of a pregnancy test, or a black sail strung from a ship's mast. I am trying to talk about what blue means, or what it means to me, apart from meaning. -Maggie Nelson, Bluets
---
Planning for me is creatively tracking my life in ways that are appealing and grounded in compassion. My journal-planner is so much more than counting days … 
♥
Being able to reference what past January's were like for me is part of the reason I compile annual journal-planners. I consider my use of the 2017 Planner Kit as a series of field tests for my observations and journal-planning experiments.
The monthly page templates guide me onward in a familiar practice. Allowing me the option of printing and creating extra copies of the pages I want to linger and review. 
237. In any case, I am no longer counting the days. -Maggie Nelson, Bluets