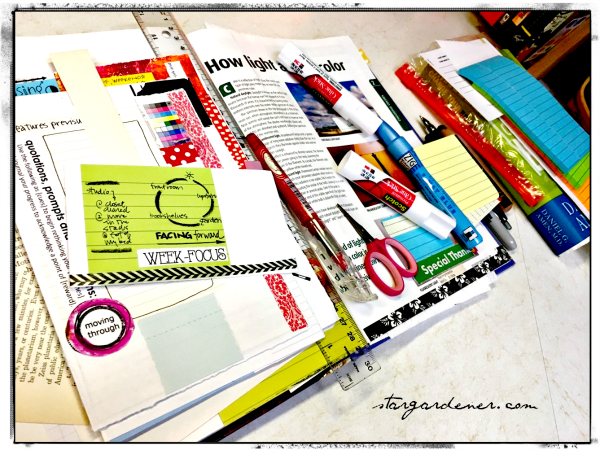 Living in-fullness requires time and space for creative processing. -stargardener
My practice of journal-planning is not about performance. It is about a promise to myself to honor a daily commitment for creative processing:

Mentally processing my to-be's and to-do's and why-oh-why's during my physical therapy exercises — releasing the stress from my mind and body, embracing ease.
Collaging bits and pieces of torn paper and random text to occupy my hands as my mind processes varying thoughts and situations.
Being outdoors resting or walking with grrls on my acreage; walking and hiking with my beloved. (I include country drives as "outdoor time" when I am physically unable to walk or hike.)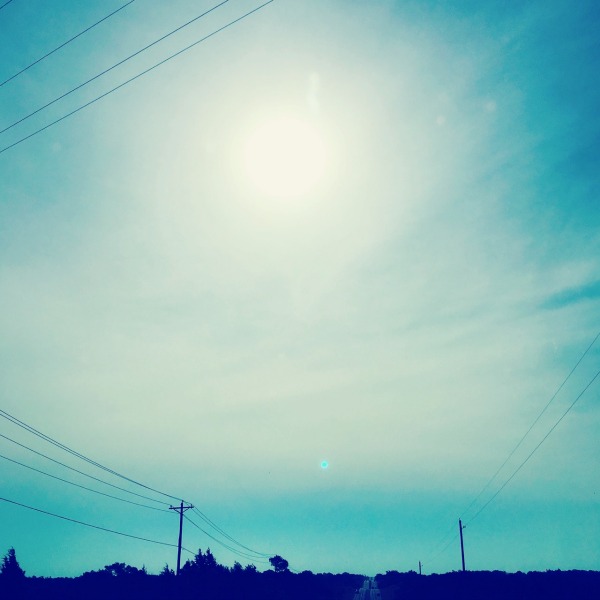 Until 2008 I didn't considered my creative process an art form or "therapy" as much as a necessity — a sustainable pathway of coping. A means of abiding in the moment instead of mentally swirling away in the Land of What-if and despair as I learned to live with chronic depression and MS.
My creative process became my pathway to move beyond survival and into thriving.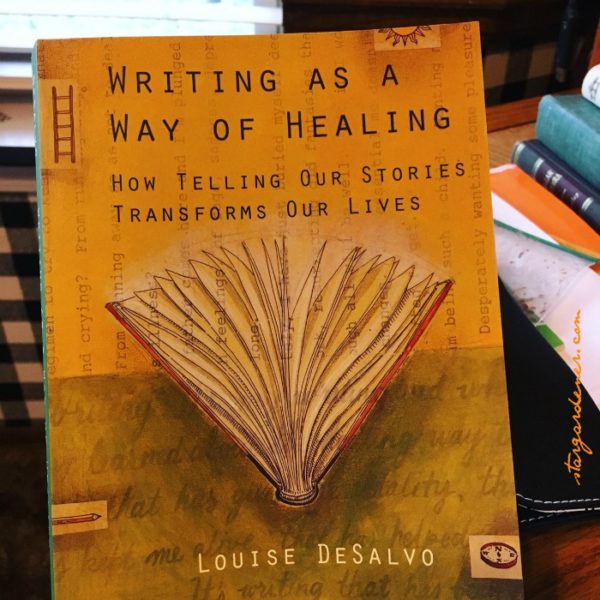 I have been writing and posting excerpts from this book here each morning since the full moon. And I will continue through the day after the Solstice (June 21).

This next series of excerpts relates to the process of writing as a point of healing.
Link to the first part of this series of posts.
As a child, [Alice Walker] wrote to comfort herself. Or she told herself stories, which she kept in her head. She feared her brothers would find them and destroy them. Now she can fashion an entire novel in her head before putting pen to paper.

Walker compares her lifesaving habit of storytelling to the tradition of Native American sand painting. In Native American cultures, she reports, "when you feel sick at heart, sick in soul, you do sand paintings. Or you make a basket. The thing is that you are focused on creating something. And while you're doing that, there's a kind of spiritual alchemy that happens and you turn that bad feeling into something that is beautiful. And in Native American cultures, by the time you've finished the sand painting, you're well. The point is to heal yourself."

…

As with Walker, we can sometimes experience a long-lived journey into despair and an intense inner psychic struggle. Our old ways of thinking and behaving seem empty and self-defeating. We move, perhaps, to the brink of self-extinction. But, because of some sudden and profound insight, we turn back and reclaim the potential and possibilities of life. We are, in a sense, reborn into a new life. Our struggle and what we've learned become the subject of our work.

-Louise DeSalvo, Writing as a Way of Healing
---
Investing time for daily writing and self-directed studies to notice and to name, to explore and to learn — to abide and listen in-Spirit — yields an indescribable contentment.
But first, well, it might be exasperating.
We become so accustomed to disguise ourselves to others that at last we are disguised to ourselves. -Francois de La Rochefoucauld, Reflections; or Sentences and Moral Maxims
Exasperating because we are known — and often only know ourselves — in disguise with the adornments of shoulds. This is why we resist; it is why we minimize the need for "white space" — solitude, rest and reflection.