I know the world is bruised and bleeding, and though it is important not to ignore its pain, it is also critical to refuse to succumb to its malevolence. Like failure, chaos contains information that can lead to knowledge — even wisdom. Like art. -Toni Morrison
Being in the fullness is being present within all of Life's fullness … even when the present doesn't feel like "fullness." This has been my focus for the summer months.
My focus has been to allow journal-planning to be a promise to myself to honor a daily commitment for creative processing (instead of performance/perfection).
To be open to walking the fine line of everyday overwhelm in order to live stronger and wiser …
To remember I am in charge of celebrations …
To seek fullness as a reframe of "planning" — to be the intention to seek:
To be in the fullness of community (in spite of its vulnerabilities).
To remember that fullness requires that I trust + act within the cycles of my life — at my own pace.
And that I am "approved" … as I am today.
As August concludes, one of my takeaways is that I learned my goal setting process is unique to me. And that my creativity is a language all its own.
Sometimes it can be translated, sometimes it cannot. Sometimes my ideas work out as planned, sometimes they do not.
What is your takeaway from August? What is your takeaway from the days of your summer? (Or winter, for my friends in the southern hemisphere.)
What is ONE day you remember well? What made it memorable?
What is ONE life lesson or personal discovery you remember?
… becoming intimate with the place where we find ourselves. This is the heart of finding the sacred everyday — discovering that the place where we are is enough. -Christine Valters Paintner
Resiliency and wisdom do not come by "trying harder" but by ritual and observation. So let's promise each other to be intentional about approving our-selves, and seeking to be in a mindset of fullness.
Let's live free and live our lives as works of art as we practice what serves us and others, that which enhances stability and creativity.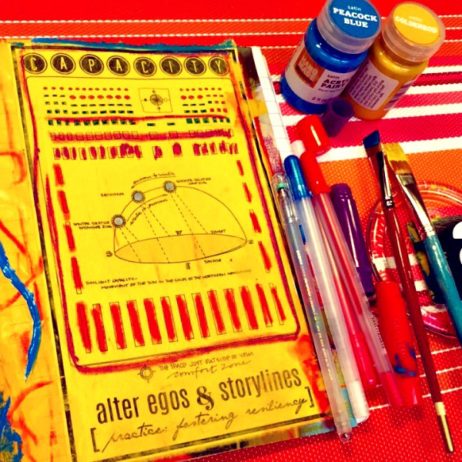 ➡️ "Capacity" by Right Brain Planner®
Alter Egos & Storylines + Fostering Resiliency
This 19-page journal-planning guide represents the second in a series of a significant design change and the second chapter of a new starting point for Right Brain Planner® resources.
Focus: Naming your current and seasonal limits & capabilities as a means of personal empowerment and resiliency.