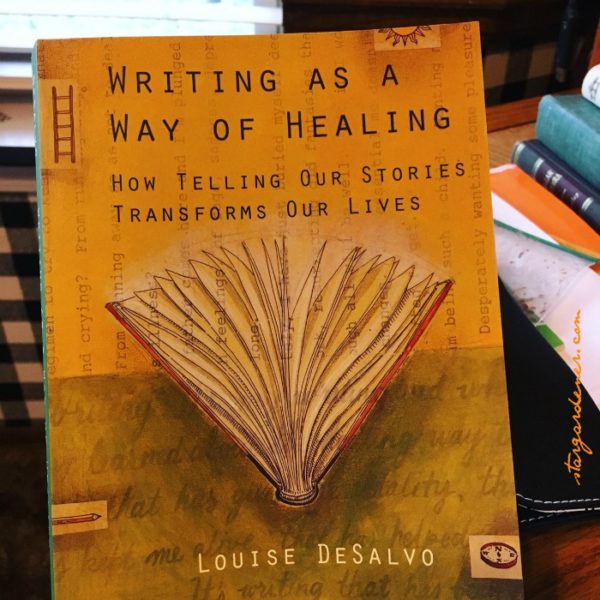 I have been reading pages of Writing as a Way of Healing each morning upon waking; I am in the midst of a "depression self-study" via my writing practice as a scheduled container of time and intention along with making my ICAD art. Followed by writing and posting excerpts from this book here each morning since the full moon. I will continue posting here through the day after the Solstice (June 21).
As I reread content first read at a time in my life when everything felt paused or lost forever, now — in a time when everything feels like a beginning — it is phenomenally energizing! (This book was given to me by my oncology psychologist during treatment for ovarian cancer.)

In chapter 4, DeSalvo points to how to begin writing as a point of healing:
Choosing to Write About Pain, Loss, and Grief

Naturally, they're afraid. [The students] readily admit it when I ask them. … Anxiety and fear are feelings we'll learn to tolerate, even welcome. … No growth, no change, occurs without them. If we aren't committed, if we haven't chosen something important to write about, I tell them, we'd feel nothing at all.
…
I've suggested that they select a subject to work on that they have returned to often in their thoughts or that they fear thinking about or that they are compelled to examine—one they can write about at sufficient length. … And that once they decide, they honor their subjects and trust that their choice will take them on a writing journey that will necessarily be a healing journey.
…
Choosing—or rather, finding—our own subject, one that is personally, deeply significant, then, is the first step of the process. Other include learning to work, developing our own authentic voices, and deciding what form our work will take, when our work is finished, and under what conditions we'll share it.

-Louise DeSalvo, Writing as a Way of Healing
Fullness Series thus far:
[focus: how to begin writing as a point of healing]
---
Investing time for daily writing and self-directed studies to notice and to name, to explore and to learn — to abide and listen in-Spirit — yields an indescribable contentment.
But first, well, it might be exasperating.
We become so accustomed to disguise ourselves to others that at last we are disguised to ourselves. -Francois de La Rochefoucauld, Reflections; or Sentences and Moral Maxims
Exasperating because we are known — and often only know ourselves — in disguise with the adornments of shoulds. This is why we resist; it is why we minimize the need for "white space" — solitude, rest and reflection.