This is a round-up of art and happy moments from the past week …
The sin we commit against each other as women is lack of support. -Terry Tempest Williams
Community is something I promote wholeheartedly and yet I know each of us have the same "reasons" as to why we don't regularly participate in at least a few of the countless Facebook groups that list us as members.
This past week community was particularly life-giving for me!
♥
Specific creative inspiration and affirmation via a private Facebook group (for creative women participating in a workshop hosted by the ever-amazing and inspiring, Tammy Garcia!) and the Creativity Matters group, where I have been compiling daily lists in response to the CMP List prompt for April posted by Amy Cowen, Host Extraordinaire of the CMP Podcast!
[If you prefer to avoid the noise of Facebook in general: "Facebook Groups" is an app for smart phones and tablets; it allows you to access only Facebook groups. Simple and much less distracting.]
Color is trending in my life right now.
I officially have paint on most of the clothing I wear daily! And that makes me very happy!

I have been creating painty index cards and I also create "color vents" as starting points for my weekend journaling (or when I am working on particularly agitating projects, like tax records and forms! lol!).
My technique for creating with color? Simple. I start with a gift card, dip it in paint and then scrape the paint as desired. Easy peasy!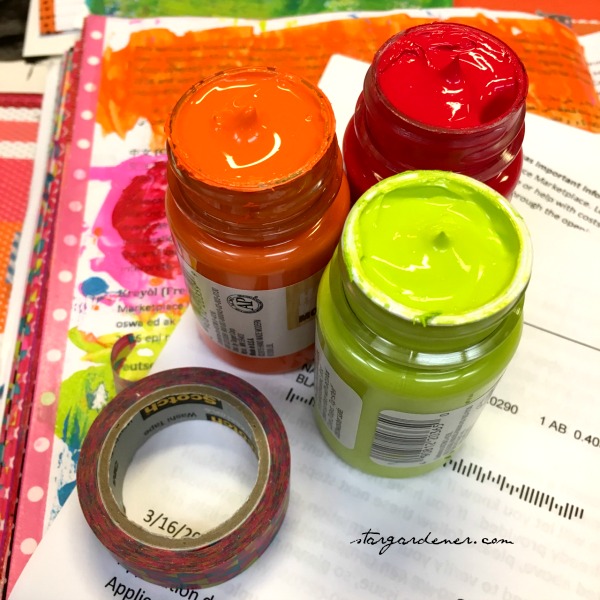 All the art of living lies in the mingling of letting go and holding on. -Havelock Ellis
Each month there are marvelous opportunities for adding in art prompts and activities. However, simplicity is the most essential of our options. Determining and naming our essentials — adding in less and trading the good for the best.

The simplicity of list-making and a 4-page journal-planner for April has been energizing and facilitated the ease I needed. It was a last minute option that has led to exciting insights regarding to the essentials of a journal-planner.
Benefits of a 4-page journal-planner booklet:
ONE place for daily, weekly and monthly notes. [Add in color and extra writing space with page sections or Post-it® Notes, if necessary.]
It simplifies the compilation of a creative record of a month of your wild and precious life! Simple = doable! ★

I know many of us bump into feeling consistently "behind" and yet …
There is no behind. We are precisely where we are supposed to be.
What is essential? For me, essential is a daily check-in + one main personal, monthly record. The April planning page accomplish that.

Here is a flip-thru of my April "planning" pages.
Here is the main link to the series of posts I shared my progress + techniques for adding color and elements to your pages
Creative planning need not be elaborate nor include artistic details that require hours of detail work.
➡️ April Planning Pages
The April planning pages include instructional content for getting started with your own creative planning practice.
This set includes:
original cover art ready for paint, doodles and collage
instructional content for getting started with your own creative planning practice
content pertaining to allowing yourself to live free and to progress at your own pace and via your set of choices
Day One art [a reminder you may begin again as many times as you need, and do so without explanation or apology]
moon phase art + a prompt for tracking your own phases
week of the year indicators + tracking calendars for April
days of the week art + numeral
hand-drawn visual of how I create a personal buffer zone each day
week at a glance page [embellish; add sketches, doodles, or daily journaling or task lists
monthly calendar [embellish; and numerals; use it as a calendar journal]
Your soul alone has the map of your future, therefore you can trust this indirect, oblique side of yourself. -John O'Donohue