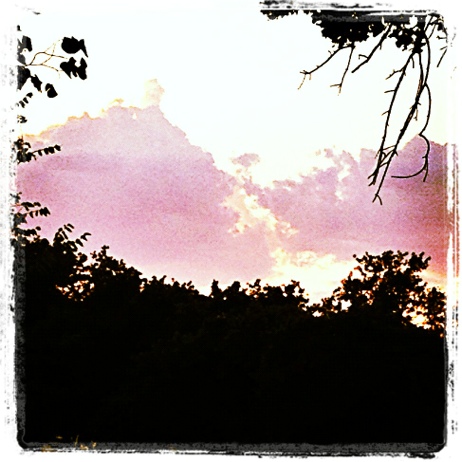 You must not blame me if I do talk to the clouds. ~Thoreau
My best prompts are the clouds … The translucent clouds that dot the night sky, visible by the light of the moon; the extra large, cottony ones that layer themselves over shades of baby blue skies as weather fronts move through. Watercolor-clouds that cushion the sun as it rises and sets …
The sky is the daily bread of the eyes.  ~Emerson



Let's imagine being closer to the clouds … Can we? Will we? Would we be forced to think back to a time of childlike faith in order to even begin?
The sky is that beautiful old parchment in which the sun and the moon keep their diary. ~Alfred Kreymborg
Saturday evening, my three-year-old granddaughter and I were outside as the sun began to set itself on the horizon line. Suddenly, we both noticed the colors of the sunrise begin to bloom …
"Gigi, these clouds are for us!
Let's get closer to them!!" she exclaimed.

She grabbed my hand and pulled me as we began running "closer" … "Hello, pink clouds! Hello, purple clouds!! We are coming!!!"
Her undaunted sense of being able to touch the colors of sky that attracted our attention touched me deeply. Closer to the clouds.
Yes.