It has been said that all success can be boiled down to two simple rules: 1. Start something. 2. Keep going. -Julia Cameron
All of us who do creative work, we get into it because we have good taste. But there is this gap. … [where we are making stuff but] it's just not that good. It's trying to be good, it has potential, but it's not. – Ira Glass
When we begin new creative projects we are excited to honor a desire of our heart; but soon comparisons with what other people are creating and everyday distractions feed into our ongoing flow of self-doubt; we wander from our original intention and our original zeal flounders.
Keep only those things that speak to your heart. Then take the plunge and discard all the rest. By doing this, you can reset your life and embark on a new lifestyle. -Marie Kondo
The intention of the "Calendar Journals" module is to provide a simple reset or a starting point for your daily practice; to facilitate your desire to develop — or revitalize — a creative journal-planning practice.
I compile Right Brain Planner Modules to: 1) document my creative journal-planning practice and, 2) offer you a guide, prompts and templates for developing your own creative journal-planning practice.
Calendar journals are saving grace for maintaining a daily practice:
✔ Quick notes + reference for accomplishing "one thing every day."
✔ One-page chronicle documenting what needs to be next + what was completed.
A project tracker presents: 1) reminders of your priorities, 2) quick-reference of what matters most to you, 3) options for doing/moving through when you are overwhelmed/depressed/distracted and, 4) mini-motivation: check-marks are proof of your progress + self-motivating.
Even if you are not checking a box every day: everything counts — some progress is better than no progress. Each check-mark verifies you are showing up for yourself.

One thing. One focus.
One day at a time. Period.

A "reality-check" visual for perspective: Calendar journals have served me as space to chronicle how many days each month I deal with a physical, emotional or cognitive limit. But also provide squares of space to remind me of the many small victories and baby steps of progress each month!

♥



---
… in 16th- and 17-century Europe, it was fashionable to have a Wunderkammern, a "wonder chamber," or a "cabinet of curiosities" in your house—a room filled with rate and remarkable objects that served as a kind of external display of your thirst for knowledge of the world. -Austin Kleon, Show Your Work!
Calendar journals provide a proverbial cabinet shelf for a quick check-in with yourself; to curate a one-word personal log; track moon phases; add a smudge of color for the way you feel; or collage a word or idea that has your attention.
What are you curating from your every day?
What do you want to "footnote" regarding the intangible museum of your heart?

Calendar journals are simple, visual chronicles of baby steps in the direction of your dreams.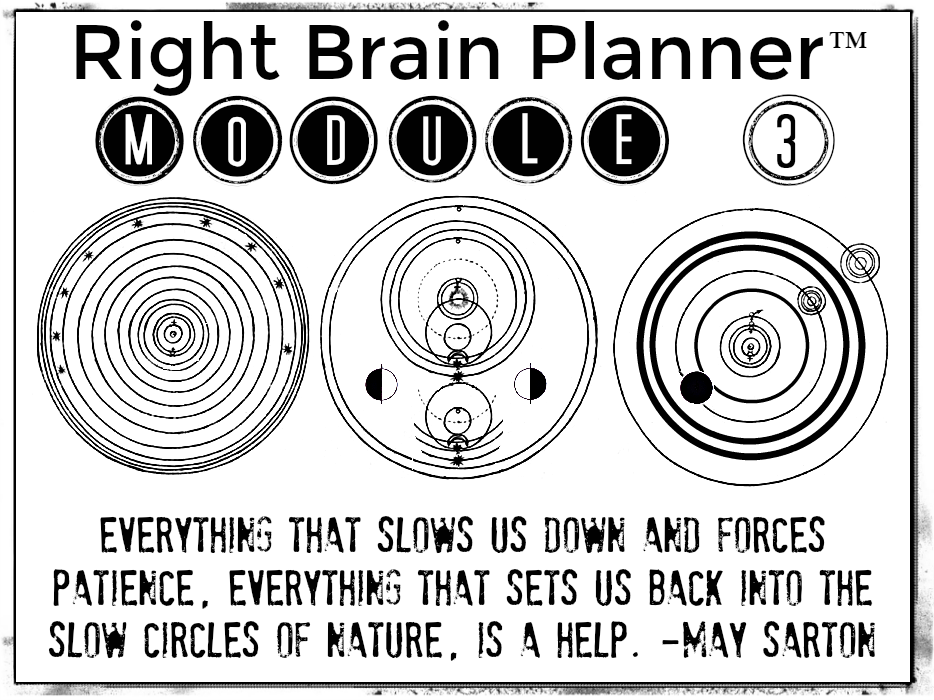 ➡️ [Module 3] — Calendar Journals

A calendar journal is simply a calendar used to log and document information, ideas and thoughts or other details deemed relevant and curiously interesting to the one making the entries.
The Module 3 guide, "Calendar Journals" includes content and prompts for getting started with your creative practice + templates and numerals that you can print as often as you need for your own calendar journals experiments.
Note: The "Moon-Mood-Energy" Calendar Journal is dated for the month of March but can be easily "edited" by collaging the numerals over the dates for March. The other templates may be used simultaneously or set aside for future use.
These template pages don't have to be used every day to prove beneficial.
Content may or may not be functional [task lists, dated, etc.].
Experiment to discover what works best for you.
Module 3 includes:
(3) Monthly Habit Trackers
Monthly Bullet Journal Log
Bullet List Box Calendar
"Moon-Mood-Energy" Calendar Journal
(2) Blank Calendar Journals
(3) set of numerals to add to your calendar journals