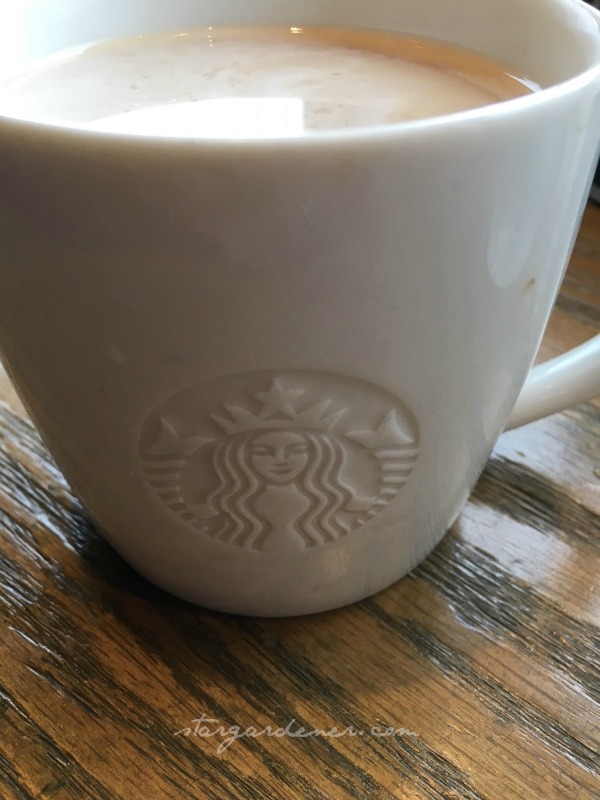 The personal choice to track chapter notes from our life-story (significant moments, feelings, hopes and wishes) serves both as a insightful pause as well as personal validation.
A tangible record — in whatever form serves you best — enables you to rearrange what you know and notice (likes, dislikes, preferences, life lesson, etc.) in order to more accurately define the longings of your heart. It aids you in remembering how far you have come + knowing what is next. Thus, preventing you from living the same life over and over.

Our dailies can feel blurred and jumbled with feelings and details: fulfilling and/or overwhelming, insightful and/or confusing, clarifying and/or shape-shifting.
Without a creative compilation of at least some of these moments — jumping up and down wildly vying for our attention — one minute eventually fades into the next without being "translated" into our personal language.

We define our-selves and our lives via tangible and intangible "compilations" of words, emotions and visuals, repetitive actions, reactions and habits.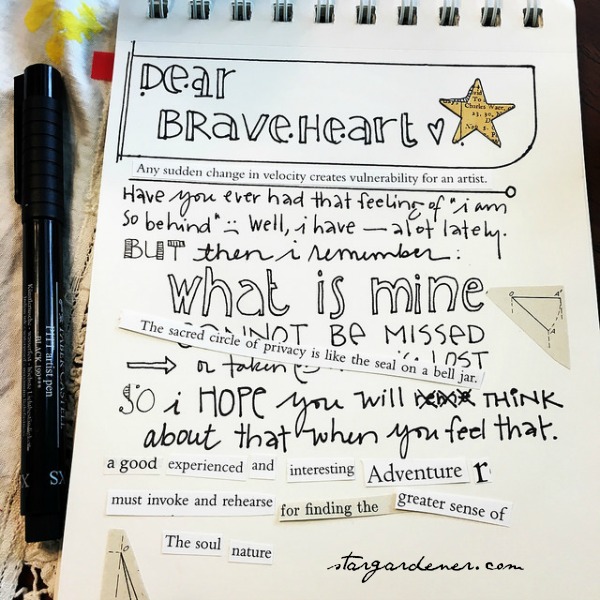 "Confidence is achieved through that willingness to continually put yourself in vulnerable situations." -Debbie Millman
When we only have minutes a day for something we want to do, we can believe it to be impossible. Unless we allow ourselves to be vulnerable, and to notice personal energy cycles and habits + how we currently utilize our hours, days and weeks.

Allowing for honesty with regard to how we are spending our days + being willing to experiment with options that allow us to live more of what matters most.

And when we allow ourselves to begin simply — we can begin immediately.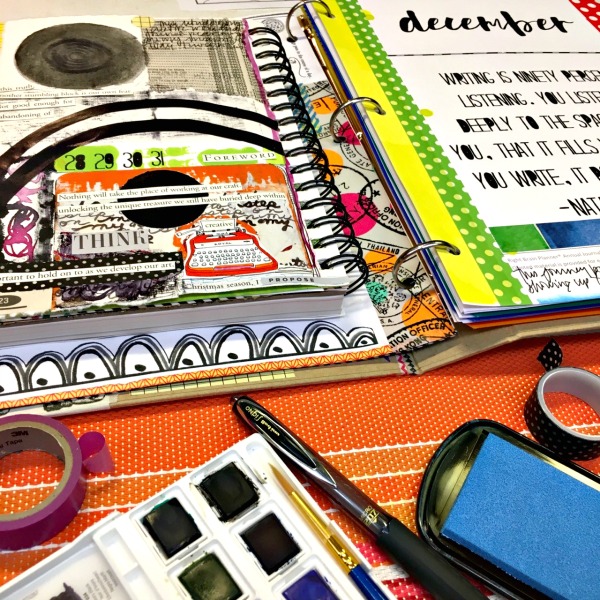 Trial and error + minutes a day is how my first journal-planners were compiled.
I have been working on designs for creative journal-planning prompts and templates for ten years — and it all started with a 3″ x 5″ spiral notebook and Post-it® Notes.

✔ Basics of my current practice:
dated planner (for time sensitive events and appointments + daily notes)
52-week* journal-planner (weekly list journal and collage + a weekly word prompt)
monthly journal (3-ring binder with monthly sections from the annual kit)
*Details and word prompts 1-10 are included in "Life Chronicles"
My journal-planners are stacked and waiting for me on my kitchen countertop.
I also have various altered books, bound journals, and composition notebooks that I add to as needed:
mixed media practice/experimenting
processing entries and vent journaling
quarterly planning notes
project notes
bullet journals
My experiments have repeatedly taught me the power and clarity of a creative pause.
---
Are you are interested in beginning (or modifying) a journal-planning practice?
Our two most common accompanying thoughts to our yeses are:
"Yes — but I don't know how."
"Yes — but I don't have time."
Braveheart, we learn by trying — and we "find time" by noticing how we are spending the time we have.
Life is always under construction. There is always the opportunity for growth and for expansion, to reach beyond where we are now — even when it doesn't feel like it.
"To allow oneself to be carried away by a multitude of conflicting concerns, to surrender to too many demands, to commit oneself to too many projects, to want to help everyone in everything, is to succumb to the violence of our times." -Thomas Merton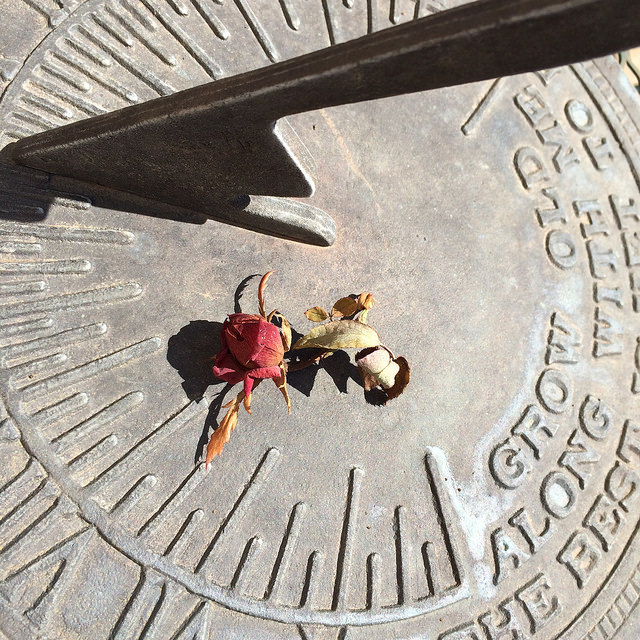 Time is finite. Its use and possibilities: infinite.
Quiet solitude and list-making are my starting points when I feel as though I am in a free-fall: I notice what is distracting me, the roots causes of my anxiety, and I name what I want to do more (or less). 
This is a part of my own cycle, my ever-widening circle of possibility. It is how I begin, and it is how I restart.
Creativity as a starting point.
Allowing creativity to be my respite and reset enables me to cycle through the (perceived) obstacles and road blocks of my "why's" and "want-to's."

Begin simply by setting aside time and space as an act of self-compassion.
Consider [your why's] with regard to reading this blog post. Obviously it is something you are interested in because you are here. ♥
Schedule a date with yourself at a place you enjoy being. (Take along a notepad and a pen. Switch your phone to "airplane mode" but keep it handy if you prefer using apps for journaling, capturing images or other means of notation.)
Allow your mind to wander … What matters most to you? How are you spending your time and energy? Are you living what matters most to you? What is missing?

Prompt: If you are unsure of how to begin a journal-planning practice, purchase and review the content of this guide. Use what you need (and leave the rest). You are the expert, Braveheart.
You are the expert, Braveheart. Each day is an opportunity to live more of what you need.