Emotions are signposts for a path we are trying to avoid and burnout is proof that it is time for change.
In this post Seth Godin presents the three basic types of people who show up in your life. I know this is common knowledge but having a list to reference is like permission to decide if it is in your best interest to engage. 
As I mentioned yesterday I am just beginning to truly value my work and time for intimacy [valuing solitude; reflection and familiarity] with myself.
An accurate assessment of self-worth begins quietly within long before it is outwardly evident.
Assessing personal habits and initiating the habit of intimacy with myself began with a series of "no's" and assigning special priority to my morning hours.
Saying "no" has more creative power than ideas, insights and talent combined. No guards time, the thread from which we weave our creations. The math of time is simple: you have less than you think and need more than you know. We are not taught to say "no." We are taught not to say "no." "No" is rude. "No" is a rebuff, a rebuttal, a minor act of verbal violence. "No" is for drugs and strangers with candy. -Kevin Ashton, Creative People Say No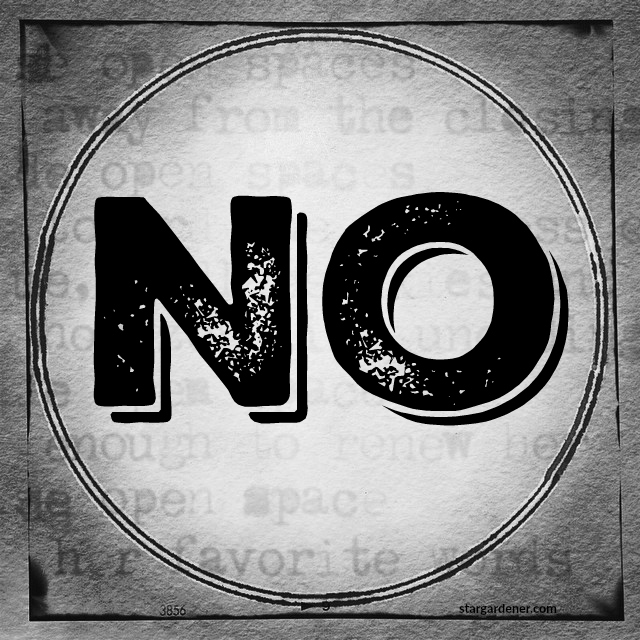 Crazymakers hate schedules, except their own. -Julia Cameron, The Artist's Way
"No" gave me options, and clarified my work. "No" allowed me to more fully enjoy each and every "yes" — and assisted me with defining my capabilities and availability, as well as declining the potential stress of sharing time and space with "crazymakers."
"No" makes us aloof, boring, impolite, unfriendly, selfish, anti-social, uncaring, lonely and an arsenal of other insults. But "no" is the button that keeps us on. -Kevin Ashton, Creative People Say No
"No" enriched my relationships and the quality of my work [work: doing what is necessary to live wholeheartedly]. "No" revealed relationships I had "overestimated" and work that needed to be adapted or concluded.
Never be afraid to fall apart, because it is an opportunity to rebuild yourself the way you wish you had been all along. -Rae Smith
Just because you can — doesn't mean you must, Braveheart.
Allow the seasons of nature to become opportunities for "Day One's" — new life phases, times for release, planting or harvesting. 
Cycle like the moon with varying visibility; reserve and honor a part of yourself to be seen only by those you trust. Resist giving everything you have away simply to be seen or out of fear of missing out on something.

Solitude is an act of self-compassion.