You are the expert: curator of meaning and beauty; creator of circumstances; writer of plot twists. And any day can become your Day One.
So-o make your own magic: edit the pages of your story as often as needed; add in pages when you need rewrite a scene.
Discover escape hatches, be mindful and present in.this.moment … and resist whining unless of course whining is part of your creative process. If so, do what you must to move through, Braveheart.
I made my own magic earlier this month by creating a special collection of planning pages for April; my pages became a folded booklet of blurts, daily notations and a daily wellness log.
Happiness is not a matter of intensity but of balance, order, rhythm and harmony. -Thomas Merton
✔ Here is the main link to the series of posts where I shared my progress this month + ideas and techniques for adding color and elements to your pages.
Here the most recent flip thru [April 15] and I will post another flip thru here tomorrow, April 22.
Any day can be designated as your Day One! ♥ ('cause the numbers on the calendar are not the boss of you).

There are no rules. That is how art is born, how breakthroughs happen. Go against the rules or ignore the rules. That is what invention is about. -Helen Frankenthaler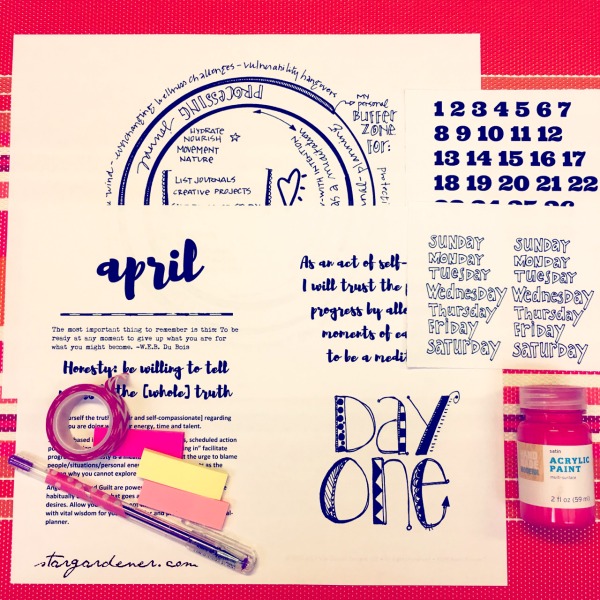 These planning pages are now available for half-price + will be available through Sunday, April 23. Page templates are easily altered to use any month. [purchase link below]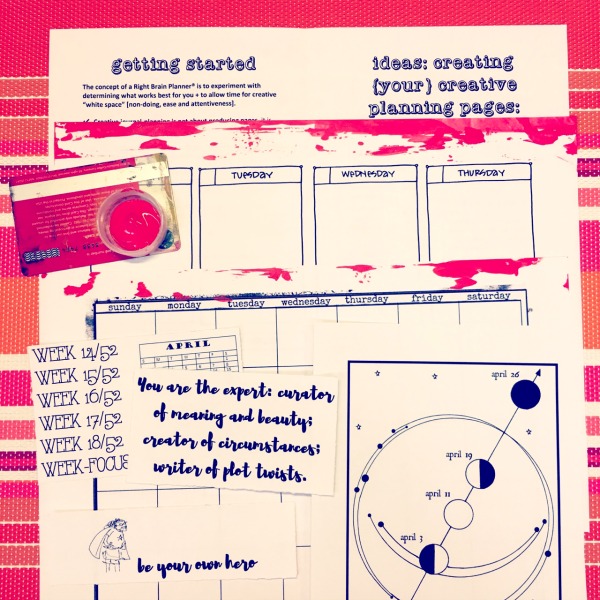 The April planning pages could be easily altered for any month and include:
(9) half-pages of instructional content and journal-planner art + a full page, hand-drawn visual of the routines I utilize to create a personal buffer zone; a weekly planning page template and a blank monthly calendar.
Complete listing of page content:
original cover art ready for paint, doodles and collage
instructional content for getting started with your own creative planning practice
content pertaining to allowing yourself to live free and to progress at your own pace and via your set of choices
Day One art [a reminder you may begin again as many times as you need, and do so without explanation or apology]
moon phase art + a prompt for tracking your own phases week of the year indicators + tracking calendars for April days of the week art + numeral
hand-drawn visual of how I create a personal buffer zone each day
week at a glance template [embellish; add sketches, doodles, or daily journaling or task lists] — print one page for each week or use one weekly page for a month

monthly calendar [embellish; and numerals; use it as a calendar journal]
➡️ April Planning Pages
The April planning pages are no longer available.
P.S. Reclaim your life [one quarter at a time] — Begin by a divide and conquer approach regarding your resistance to the word, plan. Because planning can be liberating, colorful and fun — and it is your ticket out of living the same life over and over.
P.S.S. Yes, I do have to resist the urge to become overwhelmed by quarterly planning. More about how I accomplish that here.