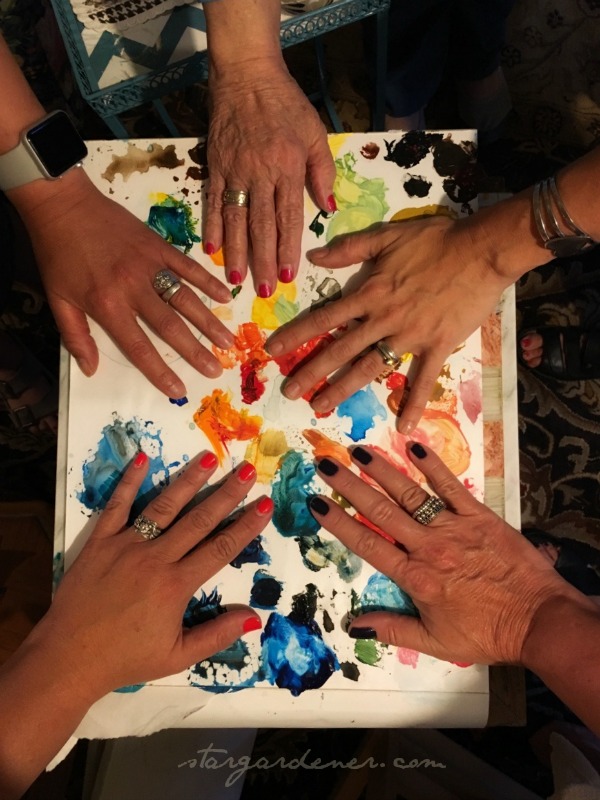 And here you are. Whatever happened or didn't happen before now is what was. You can't live it over. -Jean Shinoda Bolen
The past two days have been about kindred conversations, drive time ponderings and remembering "past lives" (my alter egos). About "knowing my audience" and celebrating the fact that I am okay with needing an affirming nod of acceptance now and then.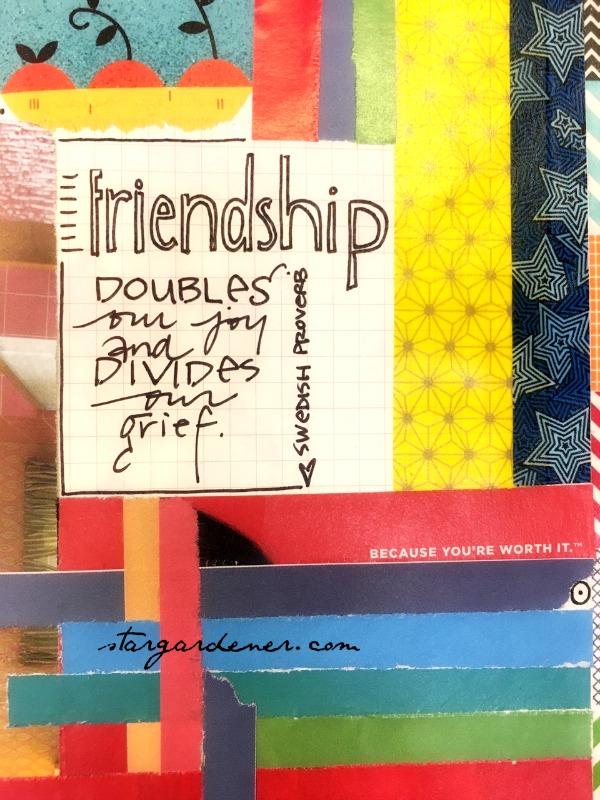 As a woman who is in the midst of her 57th trip around the sun, I have lived alotta life. Thus, there is a treasured richness when I share space with women who have lived decades of Life and who choose to embrace all of it: the good, the bad and the ugly.
We can discuss and share "hard things" without whining. We talk real because filters are only for making coffee — and life is too short to pretend "happy" is an attainable life goal.
We know when "crazy talk" is resonating — and we always linger longer than planned when we meet someone who speaks our language.
Last night I shared space with four wisely-amazing and kindred women. We lingered outside after hours of art-making and table topics that ranged from glue sticks and paper thickness, brands of colored pencils and paint, and the wrangling-heart adventures and defining stages of motherhood.
We discussed the value of torn paper and paint covered journal entries and secret messages of found text; burning journals after their pages had served their purpose; alter egos, drumming and trees.
We discussed how, even as confident creative women, we believed approval remained something we "need." Need not as something that would make or break our choices — more like a generous handful of dry leaves as kindling for our fire (passion).
Driving home I realized my day had come full circle. I declared July 1, 2017 as a day to be celebrated and remembered, a folded corner on a page of my life story.
A day I experienced a new level of understanding regarding my chronic depression* and what I want from my hours — how I want to "invest" my time and energies.
While I have never been shy about asking for and living what I want, the realities of my career and life roles necessitated a bit of shape-shifting; concessions, paused ambitions and accepting what cannot be changed.
Everything matters. Everything is an opportunity. I am absolutely certain of that — and I celebrate the mile markers that proved it because those years refined me and got me here.
My time is my life.
These words are words I speak as both a prayer and an affirmation. I know both the value and the risks of time. I know everything matters but in January of 2015 I realized it was my time to live differently. To recalibrate.

I knew then what Now looked like — I could see it in my mind's eye — but I was also keenly aware of the chasm in between. But I had now idea of the depth and width of crossing-over.

Fear, to a great extent, is born of a story we tell ourselves, and so I chose to tell myself a different story … -Cheryl Strayed
Proximity isn't a right to access.
Every day is a day of growth even when growth is unseen and unintentional. We were created to grow; we grow wild or we grow wild and in the direction of our dreams.
It is the decision to celebrate the uncelebratory — if only acknowledging what was and is; facing forward and promising ourselves to try, to be transformed by our intentions — instead of our regrets and expectations.
Familiarity — doing what we have always done — need not be reason-enough to live the same life over and over. Our decisions and diligence are capable of overcoming the fear of the unknown.

But here's the thing: It will take longer than you think it will. So just remember that. Okay?
Offense is proof of assumption.
To live differently we need to resist allowing everyday realities from becoming threats — reframing them as start lines as often as possible. To resist allowing familiarity to become the breeding ground for assumption and reaction, followed by blame and shame.
Whatever happened or didn't happen before now is what was.
And Now is inviting us onward.
Urging us to sparkly dare ourselves out of isolation to share stories and talk real — releasing our expectations about "being happy" and our convoluted assumptions about other people.
Your time is your life, Braveheart.
Together we are stronger. And this is me offering you an affirming nod of acceptance. ♥
I told her as an adult, I've had enough trips around the sun to know if you can't handle people poking holes in your enjoyment, you just don't share your it with them. –Magic Mandy
My magic spells are not happily EVER AFTER. They are happily ever until the next wave of suffering. I don't prefer them that way. I still have a Sapien hankering for suffering to just pack up its bags and move to Australia (Alexander and the Terrible Horrible No Good Very Bad Day Reference). But I have found this to be true of suffering – it shows up again on its own without me going and looking for it, and so I'm going to work with the science of that, the raw earthy matter of factness, I'm going to accept that like the man at the ocean who sits down and accepts the comings and goings of the waves and make sure that for me suffering creates the least amount of drag on my life as possible. I'm going to fly off to some beach in the ImagineNation, open a fiction book, swirl my drink, let a secret message wash over me and, when I'm ready, use my newly acquired magic to enter back into the Real World.

-Mandy Steward, "Because I love it so."
---
*I am in the midst of a "depression self-study" via my writing practice as a scheduled container of time and intention. [notes]