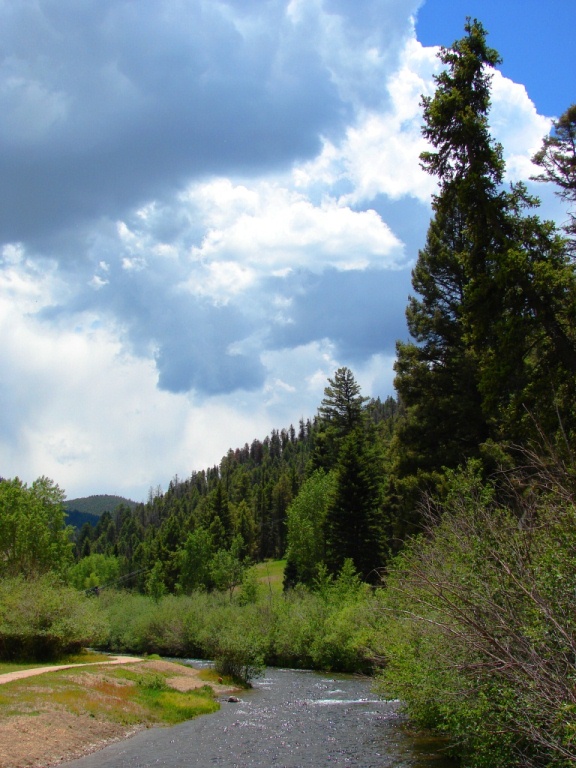 Red River, New Mexico
A woman in harmony with her spirit is like a river flowing. She goes where she will without pretense and arrives at her destination prepared to be herself and only herself. ~Maya Angelou
When I cite quotes here, when I write about dreams becoming realities and abiding in the process, of believing that "wishes come true" … my intention is not to inspire you to "run faster" or "do more" …
It is not about formulas, how-to's or motivating you to do what I did {or do} with my life. I write because it is my hope that you will be in harmony with your spirit. Like a river flowing …

This photo is from 2007 — a landmark year of decision and resolve for me. I was with one of my dearest friends; we have enjoyed many a road trip, and this was definitely our favorite, so far.

This river flows all along the road that winds around the mountain to the city of Red River. The air is cool and crisp, the skies are the most amazing blue I have ever seen. And the views … breathtaking.
I remember being like a child, intent on constantly seeing the river winding parallel with the road as my friend drove …
The flow of a river has always amazed me; a perfect visual for the word, undaunted.
And an excellent visual for setting goals and allowing the flow of one's intention to "cut through" — to flow through — whatever is in its path. Because as water flows it literally carves the terrain over which it travels.
Help us to be ever faithful gardeners of the spirit, who know that without darkness nothing comes to birth, and without light nothing flowers. ~May Sarton
Darkness and light, ebb and flow … mountain highs and valley lows: visuals for dream weavers to find solace. Visuals that we can abide with as we set our intentions to be in harmony with our spirits … in the midst of our one wild and precious life. ♥